Top 10 books to read during winter break
With winter break approaching and the year coming to a close, it's time to kick back and cuddle in your favorite spot with a cup of hot cocoa to read and reflect over the year. Here are the top books you should read during the break. These books also make great presents for any readers on your holiday shopping list. 
 The Hate U Give by Angie Thomas 
NOTE: This book has some triggering events and not all of the language is school appropriate. 
With all of the movements for social and political reform in 2020, this book revolves around social inequality in communities of people of color. The main character and narrator is Starr Carter, a sixteen-year-old black female who lives in the fictional neighborhood of Garden Heights. This story is about what she goes through, including her struggles to fit in at a white-majority private school after her best friend from childhood, Khalil Harris, is shot and killed in a police confrontation.
2. On the Come Up by Angie Thomas
This book revolves around the same idea of racial equality. This book takes place in the same neighborhood as The Hate U Give. The main character is a sixteen-year-old female rapper named Brianna "Bri" Jackson. Her father was a rapper and she hopes to accomplish the same as her father. The entire story is told through her eyes and her experiences. Her family is not very rich and Bri's school is not a very good place to be either. Bri doesn't have life easy, but she tries her hardest to achieve her dream.
3. Legendary by Stephanie Garber
I recently started to read this book, and it is enthralling. The story revolves around Donatella Dragna, who has finally escaped the wrath of her father and has saved her sister from an arranged marriage. Donatella is not free yet. She still has to fulfill the bet she made with a dangerous criminal. She made a dangerous bet with a mysterious criminal, and she owes him something that no one has ever been able to do before, Caraval Master Legend's real name. Donatella puts herself into a competition, as well as an heir to the throne and a messy love story. If Donatella can not fulfill her promise she will lose everything she loves and cares for, including her life. This book is part of the Caraval series. 
More of the Cavaral series can be found here: https://www.amazon.com/Caraval-3-Book-Series/dp/B07H419N5T
4. One of us is lying by Karen M. McManus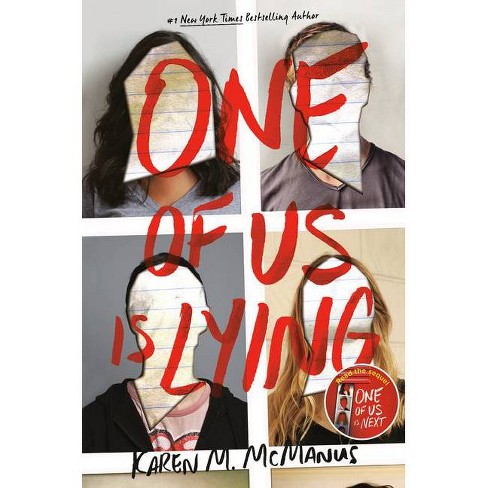 This is the story five students who were put into detention: Simon, Bronwyn, Nate, Cooper, and Andy. Simon never made it out alive. The other four people in detention are now all suspected of his murder. Simon was going to reveal juicy secrets of the other four people the day after his murder. The story is told from Bronwyn, Nate, Cooper, and Andy's point of view. This is a mystery fiction novel about what happened to Simon and how he died as well as what the suspects go through after Simon's death. 
5. One of us is next by Karen M. McManus
This is a sequel to One of Us is Next. After Simon's death many copycat gossip apps have been created but none can take the place of Simon's. Until now no one had the facts. Instead of an app this time, it is a game of Truth or Dare. Pheobe, Maeve, and Knox are next. Though Simon is gone, his legacy is has to live on and there is a whole new set of rules for that.
6. We used to be friends by Amy Spalding
This novel is told in 2 timelines, one in which time is moving forward and the other in time moving backwards. At the start of the novel, James and Kat are the closest of best friends. The novel starts out in senior year. By the time that graduation roles around Kat and James are no longer best friends. They were childhood friends and practically grew up together. In senior year Kat deals with her first girlfriend, and James deals with a divorce of her high school sweetheart parents. Kat wants James to be her steady rock but James plate is full.
7. American Street by Ibi Zoboi
This book was actually recommended to me by my English teacher, Mrs. Flinner. This book is based upon Ibi Zoboi's experiences as a Haitian experience but it is not a  biography. Ibi Zoboi is the author of this book, her best known novel. The main character is Fabiola Toussiant, a 16 year old female. Right after her family leaves Haiti, her mother is detained by US immigration. This leaves Fabiola alone with her cousins to navigate everything in a new country. As soon as she orients herself, she comes upon a choice, which makes Fabiola realize that freedom comes at a price. Trapped with choices, this is the story of the choices and life of Fabiola. 
8. Life as we knew it by Susan Beth Pfeffer
My friend strongly recommended this book for me to read. Though this book was published a while ago (2006) it is thrilling to any reader. It is a post-apocalyptic book about life after a giant asteroid hits the moon and causes havoc on Earth. Many disasters were caused by the asteroid hitting the moon such as volcanic eruptions and food shortages. The story revolves around an ordinary family in Pennsylvania after these catastrophic events. 
9. They Wish They Were Us by Jessica Goodman
This book was published in 2020 and it is also more of a thriller novel than the rest of the books on the list. Jill Newman goes to a seemingly perfect preparatory school in Long Island, Gold Coast Prep. Her best friend, Shaila, was murdered. Everyone thought that it was Shaila's boyfriend, Graham, that murdered her but Jill finds out that it is not. Jill suddenly gets a text one day that warns Jill that Graham is actually innocent. Jill has to chose between enjoying her senior year by pretending that it is Graham's fault or she can seek justice for Shaila. 
10. A Golden Fury by Samantha Cohoe
This novel was also published in 2020, and it is Samantha Cohoe's debut novel. This is the story of Thea's battle on choosing to create the stone and sacrificing her sanity or letting the people she loves the most die. The story revolves around Thea Hope, a young adult and an aspiring alchemist like her mother. Thea and her mother worked together to create the Philosopher's stone. The philosophers stone is legendary. It can make someone immortal as well as turn any metal into gold. When the stone begins to bring in the riches promised, Thea's mother destroys it. Thea finds out that anyone who tries to create the stone will lose their sanity so she is sent to her father's house. Some alchemists do not believe that there is a curse and will stop at nothing to find out how to create the stone.